Marketing Solutions that will make your restaurant dominate the industry
How to utilize a strong marketing strategy online and off?
Restaurants today have a very hard time staying in business.  A lot of this is due to the fact that they don't have a solid marketing strategy.
According to a study done by Ohio State University, 60% of restaurants do not make it past their first year and 80% will go under in five years.  There are over 39,143 eating and drinking places in Florida.  With failure rates being so high, it's vital to have a strong marketing strategy.
Some restaurant owners put an emphasis only on online marketing and forget there is an offline strategy as well.  The vice versa is true as well.  Most things in life are about balance and knowing what will work best under certain circumstances.  A well thought out strategy is key.
Here are 11 restaurant marketing tools restaurants needs to utilize in order to succeed:
1.) Website
All restaurants need to have a website that is visually pleasing as well as easy to navigate.  In todays fast paced digital world, most customers check out the restaurant before they step foot inside the establishment.
2.) Menus
All restaurants know the importance of menus.  Your menus are a direct reflection of your style.  They set the mood and ambiance of your establishment.  Menus must be designed professionally to place both in your restaurant as well as online.  If you do not have a menu online you may be losing customers.
3.) Uniforms and other Wearables
Just like your menus your staff uniforms set the mood and ambience of your establishment.  Proper logo design and placement is key to making sure your restaurant is taken seriously.  It is also another branding opportunity.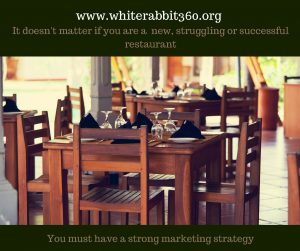 4.) Interior and Exterior Design Elements
Every restaurant is different but branding inside your restaurant is also very important.  The more people visually see anything the more it becomes seared into their brain.  Make sure when your customers sit in your restaurant and can see your name and logo throughout the restaurant.
5.) Packaging
Does your restaurant have a delivery or carry out service?  Do your waiters ever pack up food for your customers?  If you answered yes to any of these three things than you have another opportunity to brand your restaurant and keep it in the minds of your customers.  You can easily place your logo on all your packaging.
6.) Direct Mail
Direct mail may not be used as much but that's exactly the reason why you should utilize a direct mail strategy strategically.  People are now receiving less and less direct mail.  Your strategically placed promotions and announcements will stand out.  Direct mail is still a great branding method.
7.) Advertisement
Just like you must put money into marketing you also have to put money into paid advertisements.  There are plethora of ways to advertise.  You can create a television ad and really get a lot of exposure.  But there are also many other advertising options.  A professional and creative ad can be used on Google, social media platforms, expos, fairs and so many other places.  Make sure you take every opportunity to get your restaurant logo and name in front of as many people as you can.
8.) Search Engine Optimization
Having a strong website is the first priority but then you have to make sure people can find your website.  If you are not easily searchable online, you have a huge problem.  Investing in a professional marketing company, that will help you optimized your searchability and online presence, is money well spent.  You will see tremendous returns from this investment.
9.) Lead Generation
Customers have so many options these days.  Customers pick places that reach out to them and make them want to come to their establishments.  Restaurants must actively target customers and make themselves appealing.  It is important to set up several systems that are interactive and creative.  Most restaurants don't understand but they must spend at least 20% of their profits on marketing.  A one time advertisement or push is not a way to secure lead generation.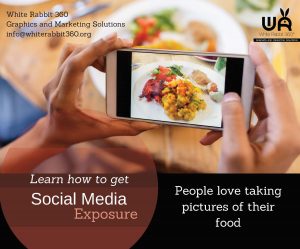 10.) Social Media Marketing
Social media has made so many restaurants successful.  Have you ever seen your friend or family member post a picture online while they are out at a restaurant?  More than likely they took a picture of their scrumptious meal and then proceeded to tag the restaurant and describe the dish.  That's free advertising right there.
Imagine all the people that saw that post and wanted to try the same meal. That is the reality of the world we live in.  The best and most inexpensive method to advertise is to have a strong social media strategy.
11.) Email Marketing
When email marketing is executed correctly it can be a very powerful tool.  Email marketing is evolving and so are methods of implementing a successful email marketing strategy.  It is a way to keep your restaurant's name in the minds of your customers.  You can announce new menu items, give out discounts or announce upcoming special events.
As you can see there are so many components to a strong restaurant marketing strategy.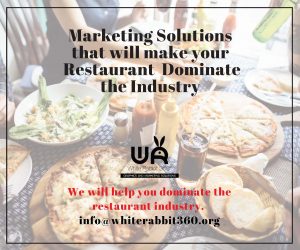 Whether you are a new restaurant, a struggling restaurant, or a successful restaurant, you need a strong marketing strategy.  Not only do you need a strong marketing strategy but a long term marketing strategy.  Everything changes at the speed of light around us: trends, interests, technology, and especially people.  Evaluate your strategy and keep improving it.
You can always count on White Rabbit 360 to be ahead of the curve and ready to help you in everyway possible.  We can help you with all your graphics and marketing needs.
Don't wait until your restaurant fails. Email us today and get ready to dominate your restaurant industry.  [email protected]