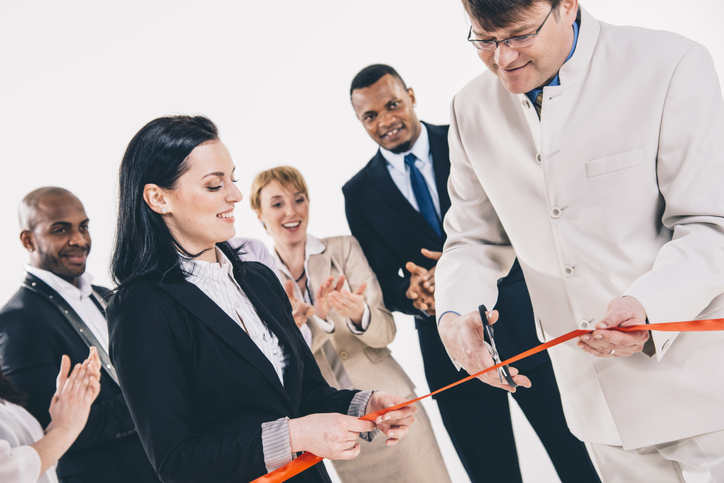 Tips You Need for Your Grand Opening!
Congratulations, you're about to have a grand opening! Are you ready to build your multi-level strategy for creating hype about your brand? When you're about to launch your company location, your marketing efforts should be geared towards bringing awareness to your company, and creating a strong brand and image. Each employee should have a unified message to share, along with the energy an excitement that you want your customers to mirror. Whether or not your company is the first on the block, or one of many, it's your enthusiasm and drive that really makes the difference. Not only bringing about buzz about your company, you should also focus on building relationships with your local community and your customers. Your community is also made up of potential vendors and future partners, who can strengthen your overall goals. 
The most noticeable way to announce your grand opening can include the following tactics:
In Person
Placing a large and easy to read sign at the new location with date.
Offer freebies, such as giveaways, prizes, and fun games.
Provide food and snacks.
Provide coupons and raffle tickets.
Have an Open House so that your customers can learn about your product and services.
Set Up a Flag or Banner that is hard to miss and will catch the eye of passerby.

 

Promote your products by giving away samples they would love.
Provide food and snacks! Ask eateries and food trucks to come by for a short time for an event.
Partner with a local charity to give back and also to show you are caring and willing to support a cause.
Offer Coupons and Comeback Perks
Lastly, never forget that anyone who comes to your event can be given a reason to come back. A free gift certificate or coupon will attract customers to come back to use discount at some point. This will help them be more accustomed to coming to your store and come back regularly. 
Online
Create a Facebook Event
Place a bright and dynamic photo up with your event's name. Give it a theme!
Put keywords in the tags section so it's easier for others to find you.
Put the wall on public setting so that anyone can leave comments.
Give your event a catchy name, thorough description and end time.
Create a countdown for the event at the top to create anticipation.
Make sure to promote and share the event!
Google AdWords  
Use demographic targeting and PPC advertising to attract customers. It will help spread the word to people you have no connection to. 
Content Marketing
Using your blog, the keywords in your content can be found by search engines which will allow new traffic and new customers to visit your page. You can also announce that your event is a local event, and it could possibly be picked up by other websites in your community. 
Email Marketing
Existing customers who have signed up on your website can be informed of the new grand opening. Additional, first time visitors can also receive ongoing updates and news about events.
Traditional Methods
Local Listings
Provide a description about your company as well as history, offered products, recent community involvement, and other information about local activities. This will make you stand out from the competition in a unique way. Include pictures of your staff and dynamic images to show your team. Don't forget to include your website as well. 
Radio and Local Public Relations 
Don't forget, 91% of Americans still listen to the radio! You can advertise on TV and newspapers. Additionally, you can ask a journalist to interview you and even have a DJ announce you and invite a radio show host to be apart of your grand opening event. List on places such as Yelp, Google My Business, Facebook Places, Yellow Pages, Bing Places, and more. 
Transactional & Direct Mail
Creating post-cards that are vivid and engaging can be mailed out to a list, announcing your grand opening. While direct mail isn't too affordable, using the USPS every door direct mail (EDDM) system allows you to send bulk mail at wholesale costs. Additionally, the USPS allows you to track your marketing ventures and observe the response rate. 
These tactics work! Giving away free items is a great way to allow customers to get hooked on your products. Other freebies can include tote bags, t-shirts, pens and other classics that are reusable and stick around for a while. 
Try to host multiple events before your grand opening. This will also create excitement for your event over a period of time. For example, you could hold a private reception for community influencers or key journalists. Additionally you could invite business owners to a private party. Similarly you could have friends and family over for a separate event. Lastly, you can have a staff party and invite them to bring their family and friends over. At each event, don't forget to invite everyone to your grand opening! All of these mini-events leading up to the grand opening will definitely make the overall party a major success as many will already have acknowledged the upcoming launch.
It's wonderful to that your having a grand opening! Make sure everyone else knows how awesome your company is, and share that passion with others.